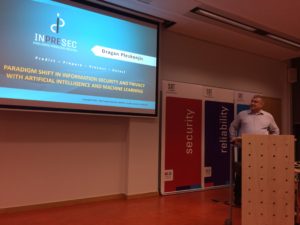 Welcome to my personal website!
You will find here information about me, my books, publications and papers, patents, teaching, projects, events, services, my short resume, blog etc.
Short Summary
Researcher, Innovator, Author, Speaker, Adjunct Professor, Security Architect & Advisor, Leader, Entrepreneur, Founder, Executive. Information Security, Software Security, Cybersecurity, Privacy, Machine Learning, Artificial Intelligence.
Senior Director Application Security at IGT (formerly GTECH)
Initiator and Founder of the R&D projects: INPRESEC (Intelligent Predictive Security), Glog, Security Predictions, vSOC
Rich experience in creating and managing start-ups, new businesses development
Leading management positions in international corporations
Expertise in information security, computer software and networks industry
Prolific academic career: Adjunct Professorship, authorship of books, scientific papers and journals' articles
Scientific and security leader, researcher, advisor, architect
Inventor with a set of U.S. patents granted and several patent applications pending (USPTO, CIPO, EPO, WIPO)
Entrepreneur, leader, motivator, visionary
Senior Member IEEE
Senior Member ACM
ISACA Gold Level Member
Member of the EC-Council University Advisory Board
Member of the Mend (formerly WhiteSource Software) Customer Advisory Board
Member of the Serbian AI Society Advisory Board
Member of the Serbian Entrepreneurs
Member of the Data Security Initiative Advisory Board
Data Science Ambassador
---
Current research and development focuses:
Glog – Making software more secure. Project is focused on research and development of a solution that can give remediation advice for security vulnerabilities in software code based on context. What is more, it is capable of automatically fixing those vulnerabilities. We are developing such a solution based on machine learning and AI. Agility in software security is becoming a reality.


---

INPRESEC (Intelligent Predictive Security) – Network and end-point security. Detects anomalies in behavior, security threats and attacks. Exploring the paradigm shift in Information Security and Privacy with Artificial Intelligence and Machine Learning. Novel approach to cyber security to predict the most likely cyber-attacks and to plan optimal preventive and proactive cyber-security defensive measures.


---

Security Predictions – Uses various parameters and input data from a set of internal and external sources, analyzes them and, through a set of our proprietary algorithms, gives probabilities of possible threats and attacks. Some of inputs: technology based, security and risk based, threat intelligence, exploits, web analysis, economic, financial, social, psychological, geostrategic, political, crowd-sourced security intelligence.


---

vSOC (Virtual Security Operations Center) – Uses INPRESEC and Glog solutions, together with Security Predictions and other tools for building and operating virtual Security Operations Center – vSOC.
---
Interested in to learn more? Contact me. Also visit events page.
---
New:
---
Introduction profile
High-tech entrepreneur and executive with a strong background in information security, computer systems and networks security, software and application security, software development methodologies and architectures.
Proven leadership and talent for creation, management and organization of successful teams. Initiated and has held leading positions in a number of industry projects, as well as in research and development projects. Experience in mergers, acquisitions, company integration and start-up companies.
Experienced leader, has worked on set of top positions at international companies with global coverage, including positions of CEO, CTO, CISO, COO, Senior Director Information Security, Senior Director Technology, Head of Research and Development, Software Development Manager, Director of ICT and similar. Possesses excellent theoretical knowledge and has been leading research and development in both academic and industrial sector which is well connected and aligned with professional work and best practices in companies, organizations and institutions.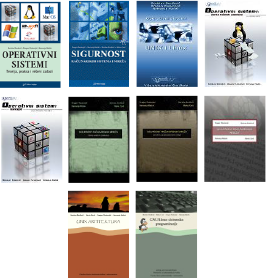 Adjunct professor. Published ten books and over eighty papers at technical and scientific conferences, seminars and journals internationally, including IEEE and ACM events and publications. Reviewer for scientific and technical journals, conferences and papers. Cited and quoted.
Inventor of set of granted patents.
Mentor at Founder Institute and Startup Academia.
More details here.
Current professional focuses:
Intelligent Predictive Security: Artificial Intelligence + Machine Learning + Big Data + Predictive Analytics + Threat Intelligence for better Information Security

Software Security including: Software's Vulnerability to Attack, The Challenge of Building Secure Software, Software Assurance, General Principles of Secure Software Development, Integrating Security into the Software Life Cycle, Software Security Tools

Information Security Management
---
IEEE and ACM
I have been honored with the designation of IEEE Senior Member since 2017.
I received Senior Member Grade at IEEE (Institute of Electrical and Electronics Engineers). Senior Members August 2017 list is here. IEEE Senior Membership is an honor bestowed only to those who have made significant contributions to the profession.
I have been honored with the designation of ACM Senior Member.
I received Senior Member Grade at ACM (Association for Computing Machinery). Senior Members 2010 list is here.
---
Information Security Management
Certified ISMS Lead Auditor – ISO / IEC 27001 Information Security Management System
PCI ISA (Payment Card Industry Internal Security Assessor), PCI Security Standards Council.
---