[Updated: April 25, 2007]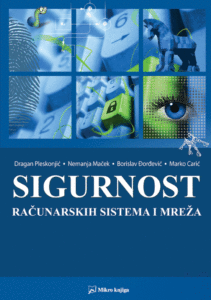 It's my pleasure to announce that my new book titled in Serbian "Sigurnost računarskih sistema i mreža" (English translation: "Computer Systems and Network Security") is to be released from press on May 08, 2007.
You can read more details about book, in Serbian language, on author's site (here) and on publisher's site (here).
Book is in Serbian language and here are details about book.
List of book chapters:
1. Threats, attacks, security and methods of protection
2. Security architectures and models
3. Cryptography
4. Cryptographic protocols and authentication protocols
5. Access control and firewalls
6. Intrusion detection and prevention systems
7. Malicious software
8. E-commerce and Internet security
9. Wireless and mobile networks security
10. Operating system security
11. Database security
12. Secure programming
13. Network monitoring
14. Organizational, physical, legal and social aspects
15. Business continuity and disaster recovery planning
16. Ethical hacking and penetration testing
Also, book has interesting appendices:
A. Security standards and certifications
B. Free security tools, open source software and other security resources
C. Cryptographic tables
D. Source code – examples
E. BIOS passwords
Other details:
Title: Sigurnost računarskih sistema i mreža
Autors: Dragan Pleskonjić, Nemanja Maček, Borislav Đorđević, Marko Carić
Year of publication: 2007
Format: 16,8 x 23,5
Pages: 752
ISBN: 978-86-7555-305-2