Dragan Pleskonjic, M. Sc.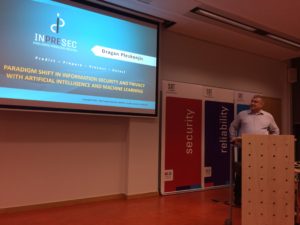 Researcher, Innovator, Author, Adjunct Professor, Security Architect & Adviser, Leader, Entrepreneur, Founder, Executive.

Initiator and Founder of the R&D project INPRESEC (Intelligent Predictive Security)
Rich experience in creating and managing start-ups, new businesses development
Leading management positions in international corporations
Expertise in information security, computer software and networks industry
Prolific academic career: Adjunct Professorship, authorship of books, scientific papers and journals' articles
Scientific and security leader, researcher, advisor, architect
Inventor with a set of U.S. patents granted and several patent applications pending (USPTO, CIPO, EPO, WIPO)
Entrepreneur, leader, motivator, visionary
Current research and development focus: Intelligent Predictive Security (INPRESEC) – exploring the paradigm shift in Information Security and Privacy with Artificial Intelligence and Machine Learning. Interested in to learn more? Visit this page and contact me.
Dragan Pleskonjic is Senior Director Application Security at IGT (previously GTECH). This is role on GTECH global organization level, focusing on Application Security, Security Development Lifecycle (SDL), Software Security Assurance (SSA) and new security trends. GTECH is a leading commercial operator and provider of technology in regulated worldwide gaming markets. It delivers best-in-class products and services, with a commitment to the highest levels of integrity, responsibility and shareholder value creation.
Dragan Pleskonjic was CSO (Chief Security Officer) at GTECH G2 group. International group GTECH G2 is the interactive division of GTECH, part of the Lottomatica Group. GTECH G2 was formed following the successful acquisition of market leading companies – Boss Media, Finsoft Ltd, Dynamite Idea and St Minver. The GTECH G2 interactive gaming portfolio are dedicated eCommerce solutions that have been built using the insight gained from GTECH's experience in supporting the interactive businesses the world's most successful interactive lottery operations and the acquisition of major players in the competitive gaming market, with experience in supporting some of the world's most successful commercial operations.
Dragan Pleskonjic previously was Chief Executive Officer (CEO) of GTECH Belgrade Branch (international company headquartered in USA and UK) and also Security Architect. Before acquisition of Finsoft Ltd (London UK headquartered company) by GTECH, Dragan was CEO at BEG Finsoft (its Belgrade division) and also Security Architect.
Dragan is Adjunct Professor of Computer Networks Security and Information Security Management at Advanced school of electrical engineering and computing. He also was Adjunct Professor of Operating Systems and created Software Security course at this school.
He was Venture Partner in Eagle Ventures, one of founders of eNovcanik a.d. Internet payment service, and one of initiators of AutoMARKET system and web portal.
Dragan is an experienced high-tech entrepreneur, with a strong background in security of computer systems, networks and information systems security, cryptology as well as profound knowledge of wireless networks and systems and software development methodologies. He also possesses proven leadership and talent for management and organization. Also, he has experience in mergers and acquisitions.
Dragan is ISO 27001 Certified ISMS Lead Auditor and PCI ISA (Payment Card Industry Internal Security Assessor).
Dragan has Master of Science (in Serbian: Magistar) in Computer Science in area of Security and Cryptography from University of Zagreb, Faculty of Electrical Engineering and Computing and works toward his Ph. D. in area of wireless and mobile networks security.
He used to lead software development in Belgrade division of Los Angeles headquartered company Empower LLC. He has been a project leader and software development manager for PCTEL Inc. NASDAQ: PCTI, USA based company later acquired by Smith Micro Software, Inc., i.e. director of its wireless network software development division in Belgrade. Prior to acquiring by PCTEL, he was research and development manager of Chicago based startup cyberPIXIE, Inc. wireless solutions company. He specializes in security for wireless networks and systems. He has a US Patent Pending in this area.
Dragan began his career in Technical Military Academy and Faculty (University) of former Yugoslavia Army in Zagreb as teaching assistant and researcher. Then he spent several years as the head of the networks and communications department at a Belgrade technical Lola Institute.
He initiated and has held leading positions in a number of industry projects, as well as in research and development projects, mostly in the area of computer networks, security, and cryptology and software development.
Have published ten books, university publications and over sixty papers at technical and scientific journals, conferences, seminars and publications internationally, including IEEE and ACM events and publications. Reviewer for scientific and technical journals, conferences and papers including journals on Thomson Reuters SCI list. Cited and quoted. Often conference speaker. Inventor of set of granted patents.
Dragan is member of:
He is an enthusiast of security, cryptology, network & communications, software development methodologies, software architectures, investments, organization of ICT teams and start-up companies.
Native in Serbian, Dragan is fluent in English and can use Russian.
Patents:
See also:
Note: Some of above pages are in Serbian language
---